Made-a-Move Monday # 7
Making BBQ chicken inside, using a regular oven, may not be as fun as doing it outside on a grill, but it can be easy and very delicious.  So, if cold, rain, mosquitoes, lack of charcoal or just lack of time is spoiling your craving for BBQ chicken, you may want to give this simple recipe a try.
Ingredients:
Chicken pieces as desired (ie in 8ths, leg quarters, etc)
BBQ Sauce (I like Kraft Original)
Honey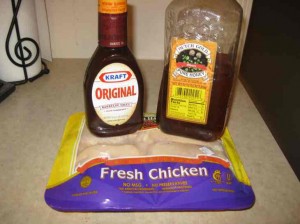 In a large bowl, mix 3 parts BBQ sauce with 1 part honey (approximately 1 cup of BBQ sauce plus 1/3 cup honey for 1 whole chicken cut in 8ths) – adjust to taste.
Wash chicken pieces, shake off water and put in bowl of sauce mixture.  Turn pieces until all chicken pieces are evenly coated with the BBQ/ Honey sauce.  If desired, you can let marinate approximately 1 – 2 hours, but this is optional.
Turn oven on to "Broil" setting.  Place chicken pieces on rack in broiler pan with skin side down.  Put on high shelf of oven and broil for 15 – 20 minutes until darkened as desired.  Turn chicken pieces so skin side is up.  Using basting brush (I like silicone), brush extra BBQ/ Honey sauce on top of chicken.  Return to broiler for another 15 – 20 minutes until darkened as desired.  Remove chicken pan from oven and cover with foil, change oven setting to "Bake" at 375 deg. F, and return covered chicken to oven for approximately 35 – 45 minutes.  Cut into chicken to check if done – actual times may vary depending on oven.
Enjoy!