Made-a-move #19
My move for this week – with the guidance and help of my family, was connecting to and celebrating "Momness" on Mother's Day.  Taking a step away from even thinking about the long list of would-should-could to-do's, to instead focus on my place in my family.
As I went out of my room to wake my daughter for a lesson, I discovered that she was not only up but busy getting ready for surprising me.  I quickly got dressed and came out of my room to the greeting of this:
Instead of dining in my room I opted to go down to be with my family.
My oldest son cleaned up the living room and dining room and presented me with a hand-made gift of his own to go with the hand made gifts of his brothers.  Such was the start to a beautiful Mother's day.  After taking my youngest DD to her morning lesson, I came home to a plateful of delicious snickerdoodle cookies and beautiful card from my middle DD: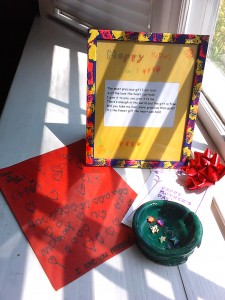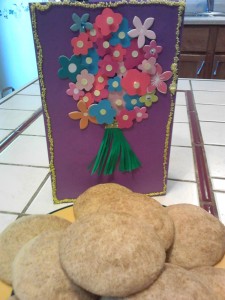 No to-do's were going to interrupt this day!
Of course a very important part of 'Momness' is supporting the interests of the kids – which included going to a grand opening of a LEGO store, but with the added bonus of going with MY mom (who kindly hung out with the kids in the store while I went to sit a few minutes with my DH).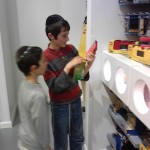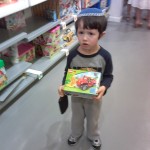 Shopping malls are NOT my thing!  One of my teen DDs was very happy for the rare opportunity to go to her favorite stores while the boys were happily surrounded by Legos
Next stop, in being immersed in the 'Momness day', was to take my mom to a plant nursery to pick out a fun new flowering plant for her yard while my DH picked out hanging flowering plants for his mom.  After a quick stop to pick up my other 2 DDs and BBQ supplies, we went to my DH's brother's house to wish Happy Mother's Day to his mom and hang out a bit at their house on a lake.  I finished the day off with helping one teen DD feel better from a major sinus attack that was making her miserable and trying to reassure the other teen DD of her ability to complete overwhelming homework. (Not that I actually succeeded in reassuring her, but I tried.)
My "Momness" celebrations carried into the week as I joined my youngest son Monday morning in the Mother's Day events that his class planned of a bagel snack, personally made gifts, and planting flowers in their play-yard before I jumped into the workday of making lunches for his school.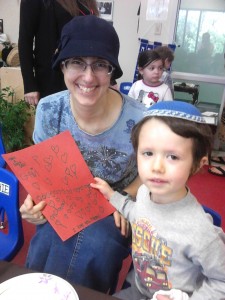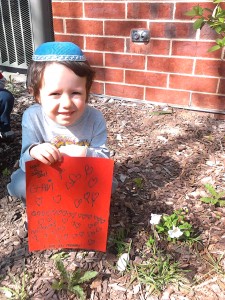 Beautiful flowers bloom and abound around our Honey Tree!  It is so good to take the time to notice and appreciate them!  Wishing you personal growth as well as much beauty blooming around your efforts… and the ability to take time to notice and appreciate them.  Please feel free to share them in the comments to this blog.