Made-a-move #34: Getting grounded in the basics
The complexities of life so easily sweep us up in their constantly changing flow and draw our attention to navigating the obstacles and rushing current.  How fitting that with the start to the transitions of the new school year, including adjusting to my oldest DS going out of town for school, my move for this week was to delve into basics.  Starting with taking time to stop and marvel at a double rainbow on our way home from dropping our DS off at his new school.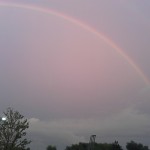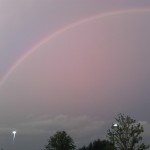 Just as Emily Dickinson wrote that "To make a prairie it takes a clover and one bee… and revery,"  I am striving to find and share meaning in life with basic elements – and, this week, my focus was on doing so with further exploring "simple words" – The words that say so much standing alone… Strength.  Health.  Happiness.  As Adin Steinsaltz said so eloquently in his book, Simple Words, Thinking about What really Matters in Life,
"Words are vehicles, and very powerful ones.  To use and ancient metaphor, the connection between the idea and the word can be compared to the relationship between a person and a horse.  The horse is far more powerful and much faster than the person, but it must be harnessed and guided.  The combination of man-horse is a very different thing from each of them as an individual being… We ride our words, but words have a tremendous power of their own.  They form a vehicle that makes the person within it a different being."
This week I also looked to find out more about Annie Dillard, the author of the quote:
"The way we spend our days is, of course, the way we spend our lives."
In doing so, I found many more inspirational quotes from Annie Dillard to share (and probably try to read from their original sources.)  Here are several I discovered:
"It is no less difficult to write a sentence in a recipe than sentences in Moby Dick. So you might as well write Moby Dick."
"The dedicated life is the life worth living. You must give with your whole heart."
"You've got to jump off cliffs all the time and build your wings on the way down."
"You do not have to sit outside in the dark. If, however, you want to look at the stars, you will find that darkness is necessary. But the stars neither require nor demand it."
― Annie Dillard, Teaching a Stone to Talk: Expeditions and Encounters
"He is careful of what he reads, for that is what he will write. He is careful of what he learns, for that is what he will know."
― Annie Dillard, The Writing Life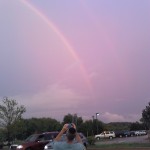 I wish you an inspirational week, filled with words of insight, blessing, and connection.  And may the coming year (The Jewish New Year is just 2 weeks away) be good, sweet, healthy, and happy!
- DebBee