Made-a-move #11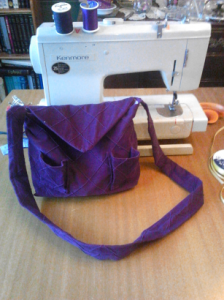 Somehow, I always tend to do things the hard way.  What started out as a great idea, to come up with my own design and use fabric from home to make a purse, got more and more complex.
I started out with taking time for myself to let my creative juices flow and design it.  A couple quick looks into some sewing books at home gave me the 'go ahead – seems simple enough'.  After quite a while of thinking through all of the details, fabrics and dimensions, I realized that I was a little foggy on how to make it lined with all of the seams hidden.  No problem – a quick internet search gave me plenty of examples on how to make a lined bag.  Ok – they went the logical and easy way of making an open tote bag…  mine has an outer flap and inside pockets…
Here I am with just a few minutes left to Monday, so I better post what I have so far: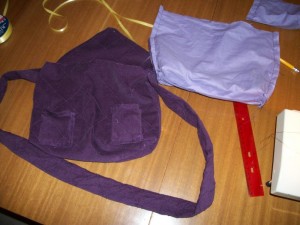 Last 3 steps finished:
Not bad for a 1st attempt and prototype.
My daughter loves it.  Great size, cute pockets, and great color
– a girl after my own heart
  She is already picturing making them for her friends.  I took lots of pictures of each step.  I see a tutorial in it's future!
Moving along and more moves to come.
- DebBee