Made-a-move #16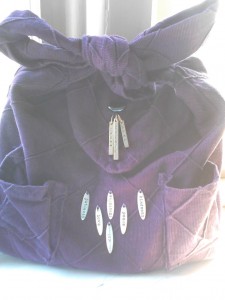 This week was filled with lots of accomplishments.  But, as far as a tangible thing I can point to and know that I am continuing to move forward for myself, as well as for others, I have added charm… or rather charms to my purse.   I fell in love with the charms and bought them several years ago, seeing their messages representing the qualities I have valued in myself (patience, happiness, kindness, love, peace and joy) and wanting the tangible reminders of these qualities as I sought to move forward in the direction of following my drive to Dream, Create and Soar.   Up until now, I had not found a good way to carry the charms with me.  Now (or at least until I get tired of carrying a purple purse
) I have them securely attached wherever I go.  A point of stability.  A non-electronic GPS so I don't get so lost again.  A reminder of who I am as I step out of my comfort zone to embark on new journeys of further personal growth.
Move along with me with Made-a-move Mondays.
Much continued growth and success to you in your journeys!
- DebBee