Made-a-move Monday #23:  Buy food on sale, freeze extras for future
A few months ago we bought a *Great* new kitchen gadget – a Yonanas machine.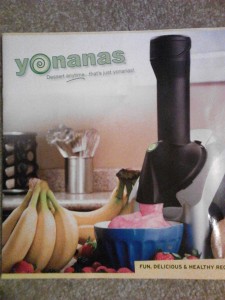 We made some up for my oldest DS's birthday Monday night – a great refreshing treat on a hot day… especially when the A/C is on the fritz.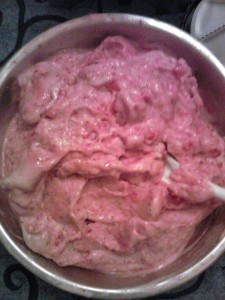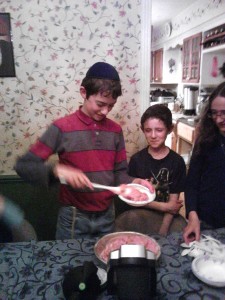 So what is so great about this treat?
It is all fruit! No sugar added! No dairy.
And it has the consistency of soft served ice cream!  My DH is amazed by the fact that the fruit becomes so much like ice cream that it even melts!   Here's the scoop on it…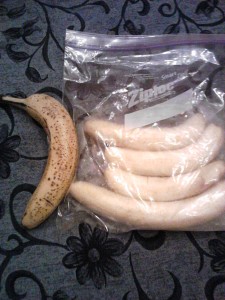 First you peel and freeze bananas after they start to turn brown; Cheetah-spotted Bananas as the Yonanas directions put it.  This is where my "Move" for this past week comes in … I bought a lot of bananas when they were on sale last week and froze all of the extras when they became well spotted.  No over-ripe bananas in the garbage!!
The bananas need to be well frozen as they are what give the finished treat the right texture.  At least overnight is best.
Also have on hand other frozen fruit – either store-bought or frozen yourself (oops, I missed my chance to freeze the extra strawberries in time)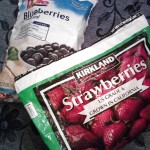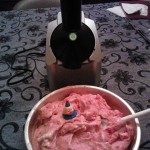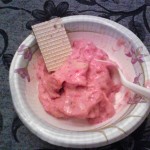 The Yonanas is made by alternatingly putting the frozen bananas (thawed 5 min) and other fruit (thawed approx. 20 min.) into the machine.  The machine grinds the fruit and sends it out a spout as you go.  It only takes a few minutes!  After it comes out, you mix the ingredients together and it is ready to serve.  Clean up is very easy – there are only 5 parts to clean up which are very easy to assemble and disassemble.  The machine came with a recipe book with a variety of dessert ideas we are looking forward to trying out.
Have a great, sweet and successful week!